Description of the device
Moeco MGT1301 is a GSM sensor for monitoring shipments during transportation. It is attached to the cargo like a sticker.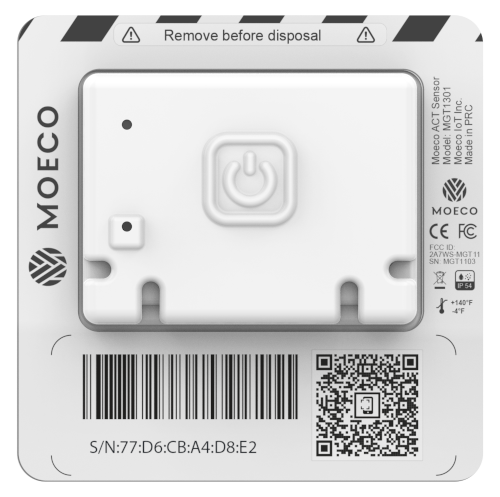 The collected data is sent to the Moeco online platform. The platform lets you see the device on the map, view cargo parameters in real time, export the data, and manage the device itself.
Note
The device erases its memory after the platform has received the data.
If any measured parameter exceeds the threshold, the platform alerts you by email or SMS. You can set thresholds in the Moeco platform.
The device does not require reverse logistics. It can be easily disassembled and disposed of on arrival.
Monitoring shipments
While cargo is in transit, the device's built-in sensors keep track of the following parameters:
Route

Shocks

Position

Ambient temperature

Relative humidity

Ambient light intensity
Flight mode
To prevent any intentional emissions during the flight, the device enters 'flight mode'. This does not require manual intervention.
The device is equipped with acceleration and barometric pressure sensors that operate independently of each other.
After either of the sensors detects that the aircraft is in flight, the device completely deactivates all transmission functions.
Once both acceleration sensor and barometric pressure sensor detect that the aircraft is on ground, the device resumes its normal operation.
Technical specifications
Measured ranges and tolerances

Temperature, standard temperature sensor: 0 to +50 °C ± 0.5 °C

Temperature, precise temperature sensor (provided by Moeco upon request): -20 to +60 °C ± 0.1 °C

Relative humidity: 0%-100% ± 3% (for 30%-70% RH) and ± 6% RH (for 0%-30% RH and 70%-100% RH)

Acceleration: ±2, ±4, ±8, ±16 g

Light intensity: 1 to 64,000 lux

Barometric pressure: 300 to 1000 hPa

Other tracked parameters

Connectivity

GSM: 850/900/1800/1900 MHz (2G)

Wi-Fi: 802.11 b/g/n

Cat-M1 (Power Class 3): B1/B2/B3/B4/B5/B8/B12/B13 B18/B19/B20/B25/B26/B27 B28/B66/B73/B85

Cat-NB2 (Power Class 3): B1/B2/B3/B4/B5/B8/B12/B13 B18/B19/B20/B25/B26/B28 B66/B73/B85

Cat-M1 & Cat-NB2 (Power Class 2): B31/B72

EGPRS: 850/900/1800/1900 MHz

Indication

LED (red, yellow, green)

Temperature operating range

-20 to +60 °C

Relative humidity limit

80% RH at 25 °C

Battery parameters

3.7 V, 1,500 mAh (up to 6 months of operation)

IP rating

IP54

Dimensions

90 x 90 x 13 mm

Weight

45 g ± 2 g